Grow Tent Ventilation System
Because the heat generated by the light will significantly increase the indoor temperature, it is necessary to increase the tent ventilation. When growing indoors, proper and proper growing tent ventilation is essential, because it directly affects the safety and lifespan of plants and reflects the overall yield. This is such an important factor, choosing the best fans, filters and planting tents is very important.
A proper planting tent ventilation system will eliminate the problems faced by plants in an environment with excessive temperature. The carefully designed product line of VIVOSUN Grow Tents has considered a series of problems that may be caused by improper ventilation of planting tents. The VIVOSUN growing tent has multiple ports that are correctly placed to achieve the most beneficial ventilation system for the growing tent. VIVOSUN Grow Tents also includes a mesh pre-filter located in the lower vent to allow fresh air to flow without letting in unwanted small animals. These pre-filters can prevent bugs and diseases in the tent.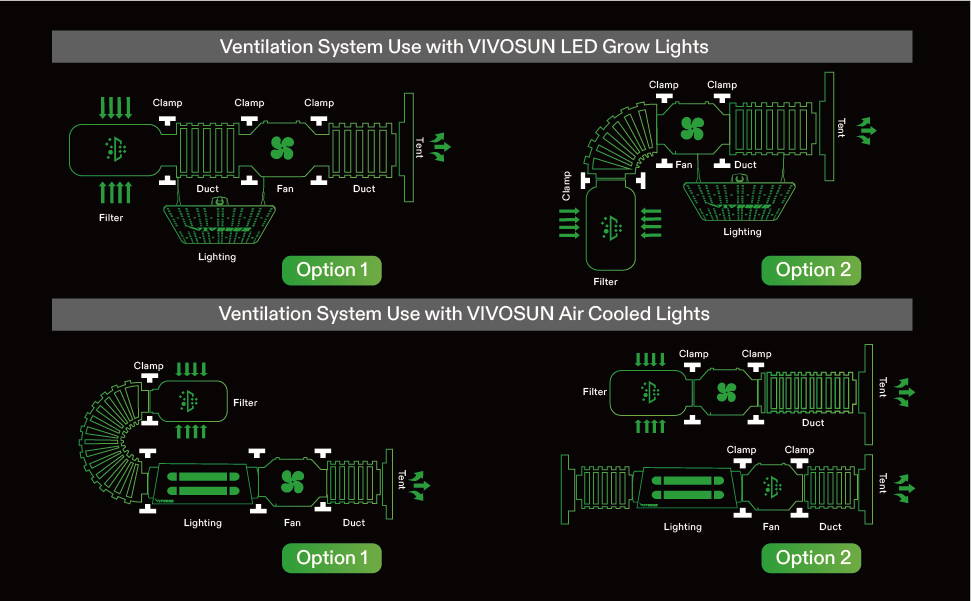 Remove Excess Heat

Grow lights emit heat. It might not seem like much to you, but a few degrees in temperature can mean the difference between a successful crop and a less successful one. Certain grow lights emit more heat than others, but all produce enough heat to merit ventilation.

Control Humidity

Humidity is another factor that can contribute to problems with indoor growing systems. Plants emit water vapor throughout the day which increases the humidity of your grow room. Uncontrolled humidity leads to poor growing conditions and can result in the development of pests and diseases.

Prevent Pests and Diseases

Air circulation helps prevents pests and diseases. Mold, powdery mildew, spider mites and fungus gnats prefer stagnant, humid conditions. Pests lay their eggs in damp topsoil, so having a fan to keep the surface layer of soil dry can slow their reproductive cycle, and a steady breeze makes it harder for them to establish themselves on your plants in the first place.

Control CO2

Plants need outside air for one very basic reason: CO2. Plants absorb CO2 throughout the day as part of their nutrient cycle. If your grow tent setup is sealed, this means the level of CO2 in the room gradually decreases, limiting your plants' growth. Ventilation brings in fresh air and fresh CO2 from outside and removes the old air from your grow room, boosting growth and yields.
Today 's Recommendation - Grow Tent Ventilation


Package Includes

VIVOSUN Grow Tent Ventilation System includes an inline fan, a filter, a ducting and two clamps. The fan is built durable, runs smoothly and quietly. Tight and precise construction eliminates rattling and reduces wear and tear. The carbon filter uses Australian Virgin Activated Carbon which is of good quality and will last for multiple years.

Various Inline Fan Series

VIVOSUN is always committed to searching and developing different possibilities about grow tent ventilation system. We have had many types of inline fan series, for instance, Booster Fan, Plastic Fan, Metal Fan, Controller Fan, etc., moving air through your target location efficiently for optimal ventilation

Superior Carbon Filter

1050+ RC 48 Australian Virgin Charcoal Bed; Dimensions: 6" x 18"

The carbon filter eliminates some of the most undesirable smelliness, pungent smell and particulates from indoor grow tent, hydroponics grow room.

Sturdy Ducting + 2 Stainless Clamps

Strong, flexible steel wire supports heavy duty triple layer duct walls.PET core is sandwiched in layers of fire-retardant aluminum that can handle temperatures from -22 to 266 Fahrenheit.

Advanced Made Easy

Don't waste time buying and returning parts that may or may not be compatible or safe to use together! Three-part system includes every part you need to get set up.