Grow bags and people have a long history together. The grow bags that were used by the ancient Egyptians in their gardens a long time ago are also popular today among gardeners. Grow bags are fabric containers used to house plants. With various sizes available, we guarantee you'll find one to meet your needs.
HEALTHIER ROOT
Grow bags help plants grow bigger and stronger because of a phenomenon called "air pruning". When plants grow in fabric bags, roots will stop growing once they reach the side of the container or if they are exposed to too much dry air. At the same time, plants will continue to produce new roots that take in water and nutrients, leading to a more stable growth cycle in plants.
TEMPERATURE CONTROL WITH BREATHABLE MATERIAL
Temperature is always an important factor for plant growth. Excess heat can easily stress a plant to the point of death, which is a major weak point of potted plants. Most plant pots on the market are made of plastic, which absorbs heat, not only causing the heat to spread to the roots but allowing harmful compounds to leech into the soil.
Thanks to non-woven fabric materials, we can control temperature easily and effectively. Breathable materials allow excess heat to dissipate and keep a steady, healthy temperature for our plants. As well, grow bags are BPA-free so there is no concern of toxins.
WATER CONTROL
Grow bags are made from non-woven fabric that allows excess water to evaporate and drain effectively without pooling beneath the bag. Unlike plastic pots, there is little risk of over-watering your plants.
SPACE-SAVING
Planting is always fun but storage can be a headache. "Where do I put it?" "Can I just throw it away?" We all face these questions as we clean up and with plastic or ceramic pots finding a home for them can be a hassle: plastic wears out while ceramic is delicate. When the growing season is over, a grow bag is easier to store and lasts longer than ceramic or plastic pots. Simply wash the bag, air-dry, and then fold it up and store it for next season. Fabric grow bags take up as much space as a t-shirt.
TRY IT NOW
Planting season is here! It is the best time to try out our grow bags. We're certain you'll love them.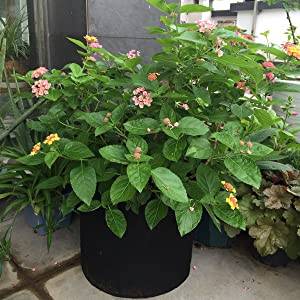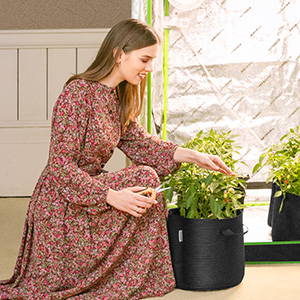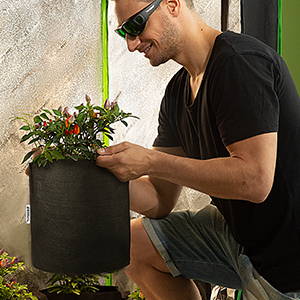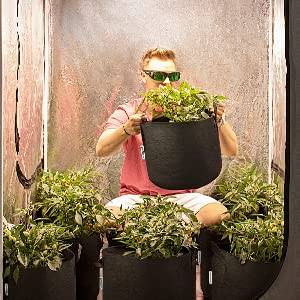 -These are Awesome-
I wish i knew about these grow bag before. I've always bought traditional planting pots for growing. Traditional pots cost more and do not let your plants grow as well. The info says the VIVOSUN Grow Bags 5 gallon sacks let the roots grow more efficient and allows the soil to breath and water to hydrate the plant better. I am not a green thumb by any means and gave these a shot, mainly due to price. They really work. My plants took quicker, grew taller, and looked much healthier by harvest time. All for a fraction of the cost.