The VIVOSUN pH Meter: Calibration and Troubleshooting
Our pH Meter is often used to test solutions and mixes or to measure the pH in fish tanks. Before you use the meter, use the powder solution included in the box to calibrate the meter in order to get the most accurate number and data.

Please follow the steps to calibrate your pH meter:
Step 1: Prepare the pH calibration solution:
Find three clean containers and fill them with 250ml of distilled water.
Mix the 3 bags of powder intothe 3 separate containers so you have 3 different pH levels.
Stir gently until the powder dissolves.
Step 2: Calibration Steps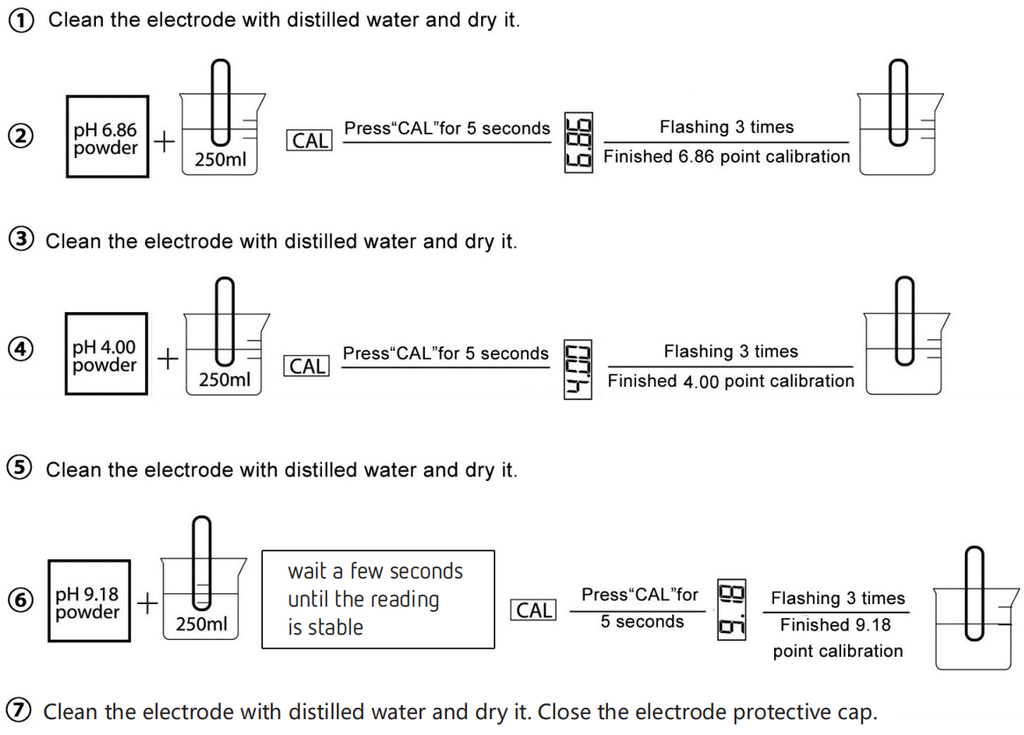 Attention:
If the required accuracy is +/- 0.1 pH, please calibrate the pH meter at the 6.86 point. If the required accuracy is +/- 0.01 pH, please calibrate the pH meter at all three points.
Re-calibration 
Re-calibration is required for the following conditions:
- Lengthy periods of inactivity
- Frequent use (If use the meter frequently, please calibrate the meter every 10 days)
- The test accuracy requirement is very high.
- The "cal" (calibration) button was pushed and the electrode was exposed to air for a long period of time
Maintenance
Always replace protective cap after using digital meter to keep the electrode from drying out due to prolonged exposure to air, which will lead to slow or unstable readings.
*If electrode has been dried out, immerse it in distilled water for a few hours.
Trouble Shooting
   Trouble 1: 
      Error Code "0000"
      Cause #1: Solution level is over the immersion line, and the test pen body is flooded
      Cause #2: The electrode is broken (the little glasses bulb at the bottom)
      Answer: The code "0000" means the pH meter is broken. Please contact our customer service team.
   Trouble 2:
      The display number is dim or invisible
      Cause #1: Bad Battery Connection
      Answer #1: Take the battery out and leave it for 2-3 minutes. Then put battery back on, restart the tester.
      Cause #2: Out of Battery
      Answer #2: Change to a new battery.
   Trouble 3:
      Word "ERR" flashes on the display:
      Cause #1: Meter has been calibrated in the air
      Cause #2: Meter has been calibrated in the wrong calibration solution.
      Answer: Re-calibrate the meter.
Usage Direction:

Attention:
Please do not immerse the device beyond the immersion line otherwise you may damage the device.
Note:
When testing purified water like spring water or drinking water, it will take longer for the readings to stabilize (typically 3-5 minutes) because there are very few ions left to be detected by the sensor in purified water.
If the solution is over the immersion line of the pHmeter, the meter may be broken.
Warranty
The product comes with a 1-year warranty from the date of the purchase. If repair or replacement is required, please contact VIVOSUN customer service to official@vivosun.com. (Warranty does not cover damage due to negligence or erroneous operation by the user).