The grow lights are the source of light for your plants and you need to make sure they provide enough intensity, spectrum etc.
In broad terms, you will find two types of grow lights: Fluorescent and HID. The difference between them is in the type of light they produce meaning a fluorescent lamp produces more natural daylight spectrum while an HID emits a brighter yellowish glow which plants need for photosynthesis process to happen.
It is recommended by many growers to have an LED grow light because of their low heat emission and energy efficiency which can prove beneficial in your indoor gardening journey. But if you're on a budget then fluorescent lighting will be enough for starting out with growing plants indoors.

Use Premium Samsung LED Diodes

VS1000 LED Grow Lights use industry leading Samsung LM301H LED diodes to produce a complete full-spectrum range of light that is easily absorbed by all types of plants and highly efficient.

Intensity

The intensity of your grow light is measured in Lumens which shows how bright or dull the lighting equipment is coming onto your plants. And dimly lit spaces for growing plants indoors will hamper their growth process.

Reflectivity

Different types of materials have varying reflectivity properties. If the material used has high reflective property, this will help enhance its output and intensity by bouncing back the light it emits, which can prove to be beneficial for plants.

Ease of use

The grow lights are better to be easy to set up and install with any kind of growing equipment or system you might have in place. And also, they need to provide enough heat insulation so there's no chance of overheating your plants.

Today 's Recommendation - VS1000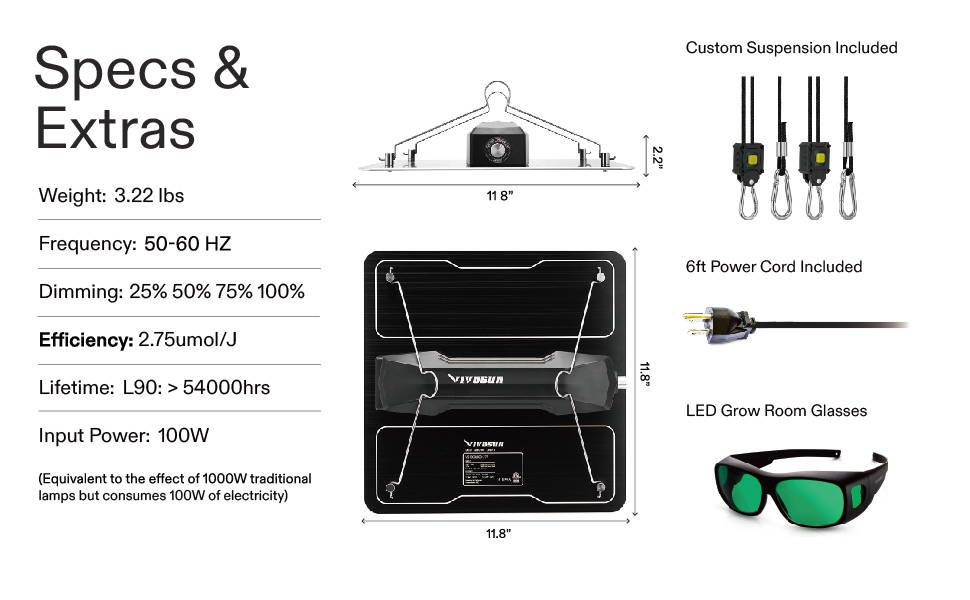 Lower Cost & High Efficiency

The VIVOSUN VS1000 LED grow lights use the latest high-efficiency (2.75 umol/J) LED plant light technology, the Samsung LM301H Diodes for extremely high output that consumes only 100W of electricity, making it more efficient than traditional HID lamps and other plant lamps on the market

Dimmable Ballast

The VS1000 LED plant lamp has a dimming knob that makes it adaptable to different growing periods for your plants; It can adapt to the growth needs of different plants in different periods; The first choice for beginners and professional growers alike

Full-Spectrum Sunlike Lighting

These VS 1000 full-spectrum LEDs deliver optimal light-spectrum coverage—more power for your blooms and maximum PAR output at various distances, with super-bright lights that your plants will love; Increases yields while decreasing costs, especially if you compare it to traditional HPS/CMH combos

Low Noise & Low Heat

The VS1000 LED has a unique appearance, with power supply and ventilation holes; No fans are needed so your set up is low noise, and ambient heat is very low, so there's no need to worry about burns or damage to your plant; The heat is low enough, and you can place the lamp directly above your plants and give them all the light they could possibly want

Coverage Area & Water Resistant

Max coverage area: 4x4ft (Core:3x3ft) with Water Resistant IP65